Dr. Jon Stocker, DDS
Dr. Jon Stocker is committed to providing excellence in dentistry, and stands out as a leading dentist in Lima. He uses the latest in dentistry techniques to provide you with a beautiful and healthy smile. Additionally, Dr. Jon Stocker believes strongly in education to prevent oral health problems before they occur, and makes sure to keep patients fully informed about their dental health.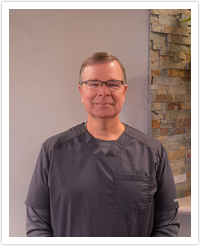 Dr. Jon Stocker
Dr. Stocker graduated from Wooster High School, Wooster, Ohio in 1982 and then attended The Ohio State University receiving an undergraduate degree in Human Nutrition in 1986. He was then accepted in the OSU School of Dentistry and graduated with his Doctor of Dental Surgery degree in June 1990.
In July after graduation,Jon and his wife, Brenda, moved to Lima to purchase the practice of Dr. Howard Koch. In 1999, Dr. Stocker began construction on a state of the art dental office and in February of 2000, the practice relocated to the current location on Golden Lane. Since that time, Dr. Stocker has continued to stay up to date on the most current dental technology.
Even though Dr. Stocker is not a native of Northwest Ohio, this area is now home and is a great place to live and raise a family. Recently, Dr. Stocker and his wife, Brenda, have become "empty nesters" with both of their children in college. Dr. Stocker enjoys travel with his family, OSU sports and recently he restored a 1970 Dodge Challenger.